Flappr Fantasy Football Week FIVE: Perfect No Longer
Week 5 of the Flappr Fantasy Football League was a high scoring affair. Seven of the ten teams scored over 145 points for the week. Unfortunately, this didn't translate into exciting games, with only one game in doubt going into Monday night.
The biggest news of the week is that we have no more undefeated teams. Bad Mans (@snakebro7) fell t Derrick Henry's White Twin (@jonbrooks935) , leaving both teams at 4-1 and leading their divisions. Derrick Henry's White Twin had 3 players register over 30 points, and he wins this week's Flappr Top Hat for scoring a season high 191.10 points.
Leroy Brown after this week's matchup
Thankfully, we don't have the 1972 Dolphins in our Fantasy Football League. Otherwise, we'd have to deal with this crap.
The next highest scoring team was Two Scoops (@_Miller__Lite_) 3-2, who rebounded from last week's embarrassing loss to defeat against Stephanie's Amazing Team (@Stephanieco15) 1-4. At least Stephanie came back to see us after our pleas from last week.
Unfortunately, her team has been hit by the injury bug and is underperforming. However, she has responded to this misfortune in a Flappr approved way.
They're fake and they're spectacular.
The closest game of the weekend was the Penalty Boxers (@ground_miller vs. M.I.L.F (Man I Love Football) (@ElderBartleby). Going into Sunday night, Bartleby had a decent lead. Then he tempted fate.
By the end of Sunday Night Football, Bart clung to a 4.8 point lead. On Monday, Jonathan Taylor won it early for the Penalty Boxers, catching a 76 yard TD on the Colts' first possession. This leaves them both 2-3.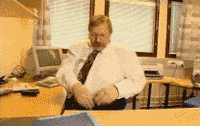 Live reaction from @elderbartleby
The Hackensack Cockles (@Travis_Tyree) won their 3rd game in a row over the Italian Defense League (@michcusejac5) bringing them both to 3-2. The Cockles took the lead after the Sunday early games and never looked back. The Italians win the Flappr Forgotten Man Award for leaving Antonio Brown's 31.4 points on the bench.
In the final game of the weekend, the Master Bedroom Dwellers (@Twi77erSuxDong) defeated the Fugly Slots (@balling_it). After literally whining every week about Robert Woods' performance, @Twi77erSuxDong finally got 27.0 points out of him. The Fugly Slots barely managed 40 points from his WRs, RBs & TE.
Thankfully, he doesn't ghost us like @Stephanieco15 does. Maybe he'll feel better after a piece of Bart's cake.
It was truly fugly!
Thanks for reading, and come back next week!